Blog
Tips for Keeping Your Fresh Florals Looking Great -
Even During the Summer Heat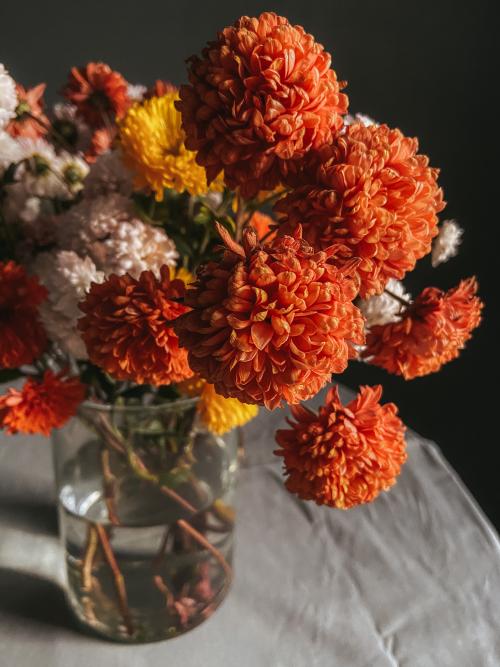 Once the hot, humid days of August hit us, floral designers start to hope and pray that their clients are doing their part to keep their floral gift cool and beautiful. With the following tips in hand, you will be armed with everything you can do to slow wilting.

If you don't have an air conditioned home, you will first want to decide on the best place to display your florals. Do not place it in the direct sunlight of a window. This will prevent sunburn and heat exhaustion too. Flowers don't like the draft from windows, doors and air exchangers. Equally damaging are heaters, overhead vents and air conditioners.

Now that you've determined the best spot, you can prepare your vase and water, if you have received a cut flower bouquet. Remove any leaves that will sit below your waterline; you don't want those growing bacteria. Next, mix your flower food that should have come with your bouquet. If the packet mixes far more volume than you will need, I always recommend storing it in a clean plastic juice container for future use as you will be topping up your vase daily. Finally, give your bouquet a fresh trim on the ends, about 1" can be cut off, and place directly into your vase.
As I said before, you will have to top up your vase every day with water or food solution. You will also need to completely change your water every 2-3 days so that it is kept clean and clear. If your water is cloudy, it's definitely time for a rinse. This ensures your flowers always have enough to drink and will cut down on bacteria.

If you have received a basket or container arrangement, you still should mix your packet of flower food and top up your container each day. Again, every 2-3 days, tilt the arrangement over your sink to completely drain, supporting it with your hand, and refill with water or solution.Your flower food solution will keep down bacterial growth within the foam your designer has arranged your flowers.
Your arrangement will really appreciate a spritz once a day. You can simply use water in any spray bottle. This rehydrates petals and leaves from the outside in and reduces surface temperature.

If you are super dedicated to your flowers, you can even place them in a cooler room of the house overnight to rest.
Another key tip to slowing the ageing of your fresh arrangement is to NEVER keep them near fresh fruit. Ethylene gas is released by the fruit as it ripens and, you got it, the gas will ripen your flowers too!

If you can work these simple tips into your morning routine, your flower arrangements will be looking their best for as long as possible. Have fun arranging and enjoy!